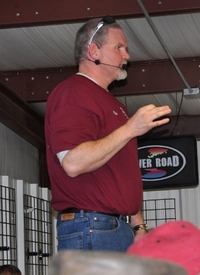 Workmans Auction is a family owned and operated enterprise welcoming the opportunity to be of service to you in conducting your sale, small or large. Choosing the right auctioneer can be the most important part of your journey. I want you to know that I have been in the auction business since 2006, with training from what I consider to be one of the best in the business. Honesty, integrity and professionalism are the trademarks for which I stand.

Please contact me soon to set up a meeting. I would like to meet you personally, bring you some information regarding what you can expect from my services, and let you provide me with your needs and expectations. A successful auction doesn't just happen - it takes planning. I look forward to hearing from you soon, and never hesitate to contact me at any time with questions you may have.

My Auctioneers License is AALB # 2368, issued by the Arkansas Auctioneers Licensing Board. Also. I am a member, in good standing, of the Arkansas Auctioneers Association.